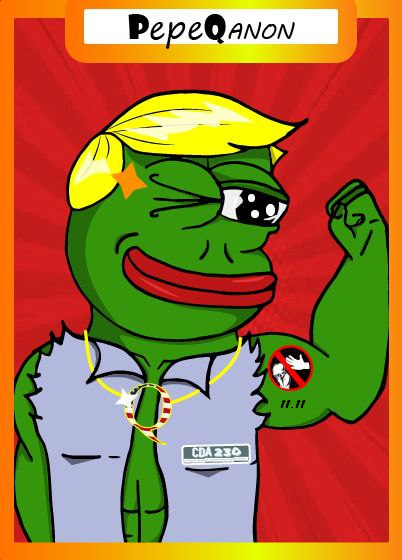 Qanon
The anonymous who has moved social networks with his strong conspiratorial comments, creating a large community of followers before his revelations.He talks about a pedophile network where important politicians and celebrities are involved.
It is said that the leader of this movement is Donald Trump, but at the moment it is still uncertain.
Creating a community of fans before an idea is something that will give you power.
Open Link.
Asset:PEPEQANON ID:3169221792269
Issuer:1L7aoyA1ZJ75ZW6bLfzpxySfxA1hWZdxEK Suppy:120
Status:Locked
BTC Price:0.00111111 XCP Price:6.73522459
HOLDERS:
1 1CCPbFbST8ruJrTGjm2Ss5aTAaqng4naBN 5 4.17%2 1HGf5jvPTi8c7gQhU5HMTh6T2DRK1Tgbc1 5 4.17%3 1JJP986hdU9Qy9b49rafM9FoXdbz1Mgbjo 4 3.33%4 1L7aoyA1ZJ75ZW6bLfzpxySfxA1hWZdxEK 4 3.33%5 1CfCbjxLt6DP4PFgPyoyPE4E3ssFa6yLMJ 1 0.83%6 193J7RVEY2BgA5aKfL6BBAVSyiS1UyBRG6 1 0.83%7 1DJK8tvbZWbsHCaSkY5rRQD8A7Rar9HL8V 1 0.83%8 1P7SQikMnHLnbHFKfJuEP3vpyq8KSeMYKe 1 0.83%