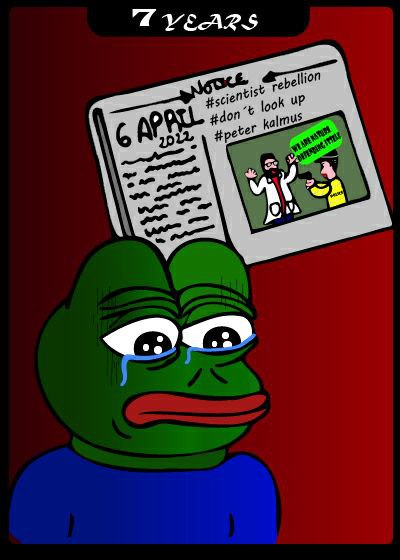 7 years

Inspired by the news of April 6, 2022, where NASA scientist Peter Kalmus is imprisoned for protesting at Chase Bank, one of the banks with the largest financing of fossil fuels.Scientist makes an alert call with intense feeling of sadness to take immediate action on pollution in the environment.

There are approximately 7 years left to save the planet, or else it will remain in an irreversible cycle due to the damage generated.

\"We have been trying to warn you for many decades...This is for all the children of the world, all the young people, all the people of the future...This is so much bigger than any of us...it is time we all let\'s stand up, take risks and make sacrifices for this beautiful planet that gives us life, that gives us everything\" Peter Kalmus

Can all humanity become aware?

What economic and social consequences would bring a radical change to habits that pollute the environment?

Will it be enough 7 years to cure the planet of the pollution caused?

Open Link.
Asset:KALMUS ID:119015746
Issuer:1L7aoyA1ZJ75ZW6bLfzpxySfxA1hWZdxEK Suppy:30
Status:Locked
BTC Price:0.00000000 XCP Price:0.00000000
HOLDERS:
1 1L7aoyA1ZJ75ZW6bLfzpxySfxA1hWZdxEK 8 26.67%2 1avGLkBNAKqk6wgNfuPvRRpxjXC7NCpe8 1 3.33%3 1GHjCTkP4RK6njD5t6SfyUhSPguMPidf87 1 3.33%