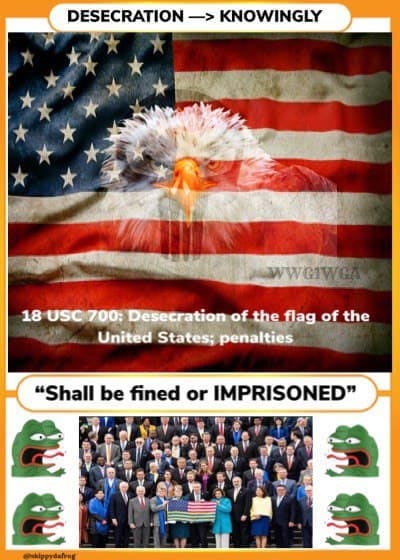 On 03/03/2022, Republicans and Democrats chose to KNOWINGLY desecrate the flag of The United States of America. Then decided to pose on the steps of the captial to document their crime for the world to see. They KNOWINGLY violated public law 18 U.S.C.700. These people make the laws in the United States of America and We The People will not stand for this anymore. I created this asset so it can forever be locked in time on the Bitcoin Blockchain. Justice is coming. Thank God for Bitcoin and The Great Awakening!
§700.Desecration of the flag of the United States; penalties

(a)(1) Whoever knowingly mutilates, defaces, physically defiles, burns, maintains on the floor or ground, or tramples upon any flag of the United States shall be fined under this title or imprisoned for not more than one year, or both.

Open Link
.
Asset:DESECRATPEPE ID:11674289542194530
Issuer:1PHnxfHgojebxzW6muz8zfbE4bkDtbEudx Suppy:1417
Status:Locked
BTC Price:0.00011000 XCP Price:1.29808827
HOLDERS:
1 1PHnxfHgojebxzW6muz8zfbE4bkDtbEudx 979 69.09%2 1A4dM3zLfExaZ5zGesuEWSJcy6mJY9bvRb 45 3.18%3 1Mu7TWgk17qqSGVCipR3WepaB2KmFrU6Pt 45 3.18%4 1BZ21Qm43EVNBAKDGeTt8LAsjUa35cwHq8 45 3.18%5 17Py7uS2QTgRjxQQaeKj5BkKGhykwK2tah 45 3.18%6 1FmEBHzkZGqQZ7kprf53xU8XijUiv2SDYW 19 1.34%7 1JJP986hdU9Qy9b49rafM9FoXdbz1Mgbjo 17 1.20%8 16htRhM3zbEfFpgpwxh4ABY6izx4oty3qM 17 1.20%9 1K7AxSnLroshBVucXa74fsTCehANdiQxcm 11 0.78%10 187tQFaynxrFGEaG5aGJpP3J3pRM9m5VQN 11 0.78%11 166dNSfbCSEpeiR2udKGG37jxUoenkET3o 11 0.78%12 1LAr5wGhmDWtcjZhPp9qYJXqUp9bcWrqwz 11 0.78%13 1BRTbtdmUjb4qGekp2eGWGPmAuwC3vGsBt 7 0.49%14 1ADca8k8XRY278QfQ3f9ynWaNYFzUDhkrk 5 0.35%15 1DJK8tvbZWbsHCaSkY5rRQD8A7Rar9HL8V 5 0.35%16 1upFtuDuTFqDqcsHnXbVJ2p6TTukDyZz6 5 0.35%17 1L9Mak5c4tJ8EPQTw1p33uq8fYTPbx3eZ1 4 0.28%18 1GpDxQSq2bpMwLotSf9fsJk2AzgUK8kD81 3 0.21%19 1BCqCqHEc6qp7RGdAuubtzupeEPcvPtup3 3 0.21%20 1CCPbFbST8ruJrTGjm2Ss5aTAaqng4naBN 3 0.21%21 1JuxecdGHRRSxQRCttKtrvnTtS9RjfjkkD 3 0.21%22 14QEEoeGe1KJLiiZXfrbg3ToS2RvsSHxVC 3 0.21%23 1P7SQikMnHLnbHFKfJuEP3vpyq8KSeMYKe 3 0.21%24 14Qqq9u8nS2CwkJAAShug6n2k45RUwhAVd 3 0.21%25 1EEkXNndtrSRfBggaiByQcTvnD5X3w8Wru 3 0.21%26 15W87vT4XEqgr1owPNqBZTqXAfkdGnGhuP 3 0.21%27 1KiC2qVWqzKHqKrfCMnDAmdod513CWGWeP 2 0.14%28 193J7RVEY2BgA5aKfL6BBAVSyiS1UyBRG6 2 0.14%29 1DLFFU7Sqm4a7s52WmbeaXfxGVMgxn17vQ 2 0.14%30 1D5bx2MFe5toDDvzrZdYsUVoEgZNkSfJqX 2 0.14%31 1GpLkgp9DHEdMaVriesS3WM8q74vraHRYi 2 0.14%32 1MBNgJkJKii9pT9t6GyKRj5DM5P5MPs8Hq 2 0.14%33 173cE6ScUFCmBLCqZeG18ij6r9KHRPbAjC 2 0.14%34 1EhRRtNbWRQgYuH2BAgdcvRYgaSQRXRXt9 2 0.14%35 13rm4o46MABcaYrNPXmUVEgTPWhMuTzWWA 2 0.14%36 1avGLkBNAKqk6wgNfuPvRRpxjXC7NCpe8 2 0.14%37 1xRF1xoqGpwzWFUryB2c7Kd9fonrwEQ1u 2 0.14%38 12Bq1XhEkLh61kYzaPgi3W9bh6bYEyutDW 2 0.14%39 13dNrtrrmAu4KJz3J7Bc2Zgjkjj1mCxmEY 2 0.14%40 13j9aWM7hAJCgpFq2uWPUtJ36ZiCX139DG 2 0.14%41 1NVigoZDfVbDXXvjJGQgsR5yvCCTYnAqjb 2 0.14%42 148AHKkX2FDLHdaxD5Ykmhk4J21HwmSs4J 2 0.14%43 1Mq8jAW43ULNgmq4esDZaNGTZasBC56ooz 2 0.14%44 1866tuqUy65SuTadWpSFZt7NiHybUF4B7k 2 0.14%45 1AhCBPBYEFc6fzTHW9ca7wHjYxPz1k9jan 2 0.14%46 bc1q65a6fvm434254q4w5q2wcd4saxjvdzvkrudwaj 2 0.14%47 1PVxP93b4Jx6SpbT2DMd6sGotSABDDWRoP 2 0.14%48 1CfCbjxLt6DP4PFgPyoyPE4E3ssFa6yLMJ 1 0.07%49 13XMSZag6tmzMbPhJgHLB32fNksb5ZCzzj 1 0.07%50 1L41eRtzyTuRdbCDNHahfBkaLum3dY97EQ 1 0.07%51 1tgdSssg1WgKGJtQubcRir8Sc62ev6CUg 1 0.07%52 1HGf5jvPTi8c7gQhU5HMTh6T2DRK1Tgbc1 1 0.07%53 1LVfMMC7Lr3CkdKHp5BWVctU82LZKPqfix 1 0.07%54 18uYe7cySeAXpvxdgZVZq7e4on5gFGCXGp 1 0.07%55 1A1zP1eP5QGefi2DMPTfTL5SLmv7DivfNa 1 0.07%56 16QR2vrK6mPHuaVGj2cFchbpV4UN8dqFFi 1 0.07%57 1Mp47wKLV6qhG4ZED2UvHTYbVvnTswjge4 1 0.07%58 17kHVHkMNnNKGZWvm2n8c9796Gu4n4G9gp 1 0.07%59 1DXPAZzYXsKPf694PDzXHWAvnNukt7JNGm 1 0.07%60 1AYdZJrY98sfBn5YRcZ7xFHjBxawoSHWzb 1 0.07%61 16vw771VRvDCQG9ryQG1WMD1akr9GcaSFP 1 0.07%62 1L3PNnVdXXTCoEsniybsk3WGYXm2s1Qk61 1 0.07%63 1F6KUsLodixfxXApkJbvCS31uxwbTCPyHP 1 0.07%64 1JfH72ye5k82WhaNt1wFkVPEciRTWBmEvX 1 0.07%65 1Mvc2vJoyHrUASS93a41gzZkH2h8CPewe7 1 0.07%66 11dPUWu9aJdyNNbGXWZ2nUqV69XtmV2zJ 1 0.07%67 19UcH3keWjPzCYSzdHQbK7oVWHA3WDLAud 1 0.07%68 1EWjvmCUySoYSmoAvzoG7ejAFzHaVVigpy 1 0.07%69 14waq7AYRZ2ojisAQXpRtczyi3fB63FcMa 1 0.07%70 1Dh6Rnb2we1opNQCbQMWT9VrFziBySpeA3 1 0.07%71 1DvFgxWuqnpV24z8crYNpdvrqxdmMRGT3w 1 0.07%72 1FuuF65BXgbsd7xuhLx33XyuzGtsGPrREn 1 0.07%73 15jBoCSHbp9u3z8J35QvDHfdwvw5VLiDdR 1 0.07%74 18wWELWJGJvPn96JsZW4ee28jRH9r64ipu 1 0.07%75 13EkMLBdC1N5SmoM72WfXbrc8wkvhpykBv 1 0.07%76 15pxKK6nfeCJSELzqjbYCLMnez9NrZmbX7 1 0.07%77 1GHjCTkP4RK6njD5t6SfyUhSPguMPidf87 1 0.07%78 1LJqTgnwrYiMyLFwgzhK2i1nKXyiDn1bAx 1 0.07%79 1PvNLtE3EwpW7T4tZiq8fNyTBti1ucgV8n 1 0.07%80 1CTjM53HYrWY7VrM3o9JUpk1KURGZ8iZAo 1 0.07%81 1FzazUJogrkjsvkHeuFRbaA2Xcid8f61at 1 0.07%82 14udFRS6AdnQNJZn9RZ1H3LtSqP7k2UeTC 1 0.07%83 1AL87Z2u8uWymXsHeeTCEKyRHMojc9eana 1 0.07%84 16N5zTMB2zU5bsviuXqY5LS47XiebF7X2r 1 0.07%85 14x87bHWFZK5UkkoEUPrf8DJLpyp3pPsM8 1 0.07%86 1BmiEWWrBMPXq6t9nXhLn82c7aYZe2Cn4N 1 0.07%87 12J9natNyet9xNzo7hTp1XuiDpCBri64nU 1 0.07%88 1NfJnJdAdmm2rJCFW54NsAKqqTTMexCNJ3 1 0.07%89 1BoSH7RisUAPpGfNbX8scSB43YP6Tx3g7M 1 0.07%90 1GP5LCdSZZqa8gUCKPLdgooq5YXDRkdqsx 1 0.07%91 1MwGHzUm3gjb8S4EHhaGKDf1L6rNRugrE2 1 0.07%92 19RfaWiQnoqkmbUSDosKymg4mALrNbN13p 1 0.07%93 1B6uKuHQuRJMawKYT1KQe9wPxjEJBV3kCd 1 0.07%94 1BVCbbrH5VdAhEmUCTKW1jcQfv6k9gDEwM 1 0.07%95 158oK5vAB4iTNwTK8UmVwDuX4eiifkmqYp 1 0.07%96 1rP36PU26EMeJwc9fzuVX7xBRqDk2Ts6j 1 0.07%97 15oNhGDuaAmchLJro8NevFyvXiVfXX23UA 1 0.07%98 178etygrwEeeyQso9we85rUqYZbkiqzL4A 1 0.07%99 1D95rEm6aXafyw7WgzUoxvVxnUAkA1U4Cg 1 0.07%100 1Mnwwsj1rWa5BgA94Rp774UWvcVAt8p5Pa 1 0.07%101 1Kuyc129DScdsMV557wMLov6QWLfseUkTV 1 0.07%102 1Lhoi43wAkTgei1WK5drpSF9V8Y76jnj89 1 0.07%103 1CpqSAgWJxc5mrnRGMiC6tim25ytpmnZjT 1 0.07%104 1M4RSBmLTV8FYJbGbtmZabKQCwbbPmcjrt 1 0.07%105 1KeG8zBi5BXWhqEU8E9zpFfK8YntJSSuFm 1 0.07%106 13Hnmhs5gy2yXKVBx4wSM5HCBdKnaSBZJH 1 0.07%107 1M1coeS43ASnrQGXNsV9whAZ9KUdYd3Mbt 1 0.07%108 1NwCmg8gZW7KykrA7mX16zugNZZuckPg5o 1 0.07%109 1PEP6GtjNfh3PrwWGHeJWnp1KNFMsT1sT2 1 0.07%110 1K91tkFMHE8ZucozbBJGxHniCQfoCKRiKy 1 0.07%111 1CCXG1Y11xDDFExj6aC3jZYQVLFmNjTGp4 1 0.07%112 1Kt9qXAzTt5gCAvLzwrGuRdkH7vn1tD9AW 1 0.07%113 1HeoBBMNdRQD5etERYEnAx3YG23Wi8ytu3 1 0.07%