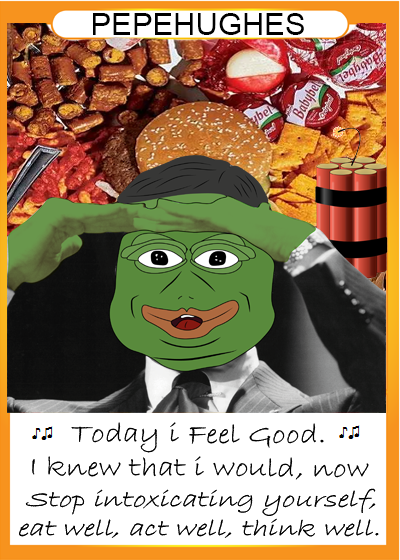 Being healthy means living and feeling full, satisfied, complete physically, mentally and socially.To achieve this, bad habits in thoughts, attitudes and eating must be changed.
Let\'s cultivate healthy habits for great personal results!
To feel and look good you must work hard, use your talent and imagination to do good and not give up in the face of challenges!
Open Link.
Asset:PEPEHUGHES ID:82399668678150
Issuer:1L7aoyA1ZJ75ZW6bLfzpxySfxA1hWZdxEK Suppy:50
Status:Unlocked
BTC Price:0.00000000 XCP Price:0.00000000
HOLDERS:
1 1L7aoyA1ZJ75ZW6bLfzpxySfxA1hWZdxEK 20 40.00%2 1L9Mak5c4tJ8EPQTw1p33uq8fYTPbx3eZ1 1 2.00%3 1D5bx2MFe5toDDvzrZdYsUVoEgZNkSfJqX 1 2.00%4 1NfJnJdAdmm2rJCFW54NsAKqqTTMexCNJ3 1 2.00%5 1avGLkBNAKqk6wgNfuPvRRpxjXC7NCpe8 1 2.00%6 1MBNgJkJKii9pT9t6GyKRj5DM5P5MPs8Hq 1 2.00%